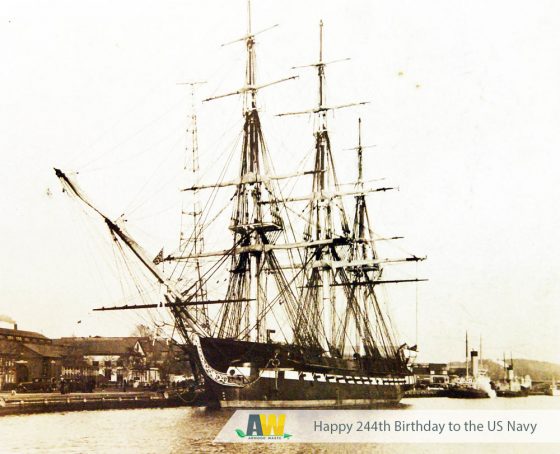 "The Navy has both a tradition and a future ─ and we look with pride and confidence in both directions." – Admiral George Anderson
Since it's birth in 1775, the United States Navy has grown to become the largest, most advanced fighting force in the world. While much has changed over the years, the United States Navy adheres to many customs and traditions that trace all the way back to the American Revolution and beyond.
Establishment of the Continental Navy
The Continental Congress established the Continental Navy on October 13, 1775. At the beginning of the American Revolution, it consisted of a mere two vessels armed to oppose the British. The Andrew Doria and Cabot were deployed to disrupt munition ships supplying the British Army in America. In the years that followed, numerous vessels joined the fleet.
In the spring of 1794, Congress re-established the United States Navy and authorized the construction or purchase of six frigates, including the USS Constitution. Named by George Washington, she is the world's oldest commissioned naval vessel still afloat today.
One Great Navy, Two Days to Celebrate
United States Navy Day is celebrated on October 27. October 27 is the birth date of President Theodore Roosevelt, who served as the Assistant Secretary of the Navy in 1897 and was an avid supporter of the U.S. Navy. After extensive research in the 1970's, it was determined that the birthday of the Navy was October 13, 1775. In 1972, Chief of Naval Operations (CNO) Admiral Elmo R. Zumwalt authorized October 13 to be recognized as the Navy's birthday.
While Navy Day in the United States, is still largely recognized as October 27, the Navy's Birthday on October 13 is celebrated by members of the active forces and reserves, as well as retirees, and dependents.
"It follows then as certain as that night succeeds the day, that without a decisive naval force we can do nothing definitive, and with it, everything honorable and glorious." – President George Washington
Proud to Serve Those Who Serve
At Arwood Waste, we take pride in providing the highest quality service to those who serve or have served in the United States Navy. Whether you need a roll-off dumpster, portable toilet, storage rental, junk removal or commercial services, we appreciate the opportunity to serve you. Call us at call us at (888) 413-5105 or order online 24/7.
The post Happy 244th Birthday United States Navy! appeared first on 123 Dumpster Rental.